Today I'm humbled by the help offered by friends over at the extraordinary Brains on Fire, who have blogged a request for help about how to spread a vision for building an iconic Christchurch (my home city). The wonderful Robbin Phillips sums it up below: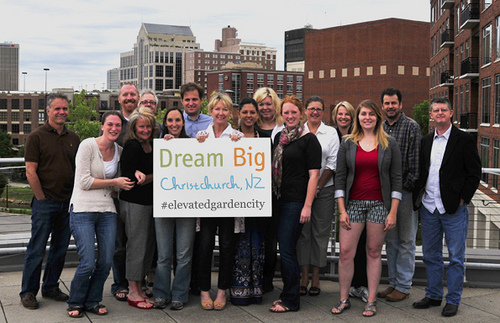 So I have a request, how in your opinion, can a small band of passionate leaders in Christchurch create excitement and hope about rebuilding an iconic Christchurch?

Like elevatedgardencity.com (Which I love BTW!)

How can they rally support in a town with a population of about 400,000 at a time when even finding spaces to meet are hard? (Most of the 80,000 people that fled town have now returned, but many are finding it hard with constant aftershocks – over 1600 since Feb 22nd.)

How can they get the community to take shared ownership when many are still caught up in the grind of survival?

If you've ever been hit with personal loss, you know that dreaming again is a very good sign. Let's help the people of Christchurch dream BIG.

Let's show our support. Share this idea with your friends. Let's start a conversation. Do you like the idea of an Elevated Garden City? Have you seen anything like it? Would you visit it?

I am humbled at how connected my community and my world has become lately.

Even if you just send a word of encouragement or retweet using the hashtag #elevatedgardencity, let's toss some big time love out in the world on this Tuesday morning.
Please take the time to check out Elevated Garden City, link to the Brains on Fire blog (below) or simply spread the word on Twitter.  Thanks.
via Brains On Fire Blog » Blog Archive » More thoughts on community, connections and being human..
(below is a conceptual image from Elevated Garden City)